Remade Glass Fibre Parts
Over the years, we have been approached by people needing some spares which have proved impossible to find as good used of NOS, these being seat pans, R204/ Bella 200 handlebar shrouds & tool box doors for R203 / R204 / R154 & Bella200.
We have therefore invested some time, effort & money in having some of these made in GRP, and the results are pretty good.
We are now offering these for sale:
– Handlebar Shrouds – Suitable for R204 & Bella200 – £40
– Toolbox Doors for R154 R203 R204 Bella200 – £18
– Seat Pans for R151 R153 R154 R201 R203 R204 Bella200 – £50
All items above are exclusive of P&P
Bella Daisy Stalks
Daisy stalks for legshields. Finish that restoration with a self adhesive daisy stalk. Simple to fit and adds that final touch – £2.50 incl. P&P (for UK)
Contact: Brian Crook – briancrook@blueyonder.co.uk
---
What you have all been waiting for !!!!!
I have lost count of the number of times I have been asked if I can supply the battery cover for the electric start Bella, and sadly the usual answer has been a resounding 'No' due to the scarce nature of these parts.  I have also seen a number of efforts to fabricate these from all kinds of materials and they usually end in failure die to the complex three dimensional nature of the part.
Well I think I have solved the problem, with the help of a new club member in my locality, who has access to a very talented GRP conductor, who took one of my batter covers, created a mould and has pulled the first one from the mould.  All my fears about rigidity, flex and fit have been attended to and the finished article is fantastic.  So you can see the finished article in the picture – the more eagled eyed of you will notice the elliptical 'ribbing; on the ride of the panel, which is on some models and not on others, but that is just consistent with the example used to create the mould.  To the best of my knowledge this will fit all the electric start models ie  R151, R153, R154, R201, R203, R204 and bella 200.
The only thing you will have to do is to cut out the hole which gives access to the steering lock – that's if you ever use it.
I have funded the creation of the mould, and therefore have to recoup that cost, so the cost per item is £40 plus postage and packing (this depends where it is being shipped to).
Nb If I can get enough indicated interest for the kick start model cover which fits under the dashboard I'll look in to getting those made also.
Contact: Brian Crook – briancrook@blueyonder.co.uk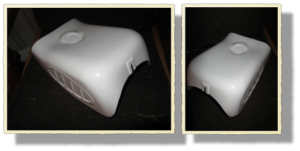 ---
DISCLAIMER
Please note that any form of contract arising from sales and services advertised are between the advertiser and the customer.
No liability whatsoever can be attached to the Zundapp Bella Enthusiasts Club.